For organizations in a dynamic environment that want to prepare themselves for the future play is a suitable metaphor for organizational change and change management. This metaphor implies that there are players playing together in change and enjoying it.
Organizational development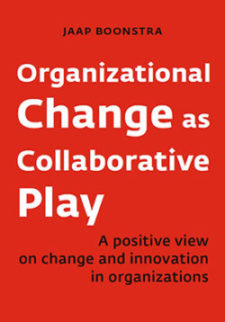 The play metaphor helps to initiate changes in organizations and contribute to organizational development. Players in organizational change envisage the future, try to find their way in an uncertain world and make an effort to shape their future. This play metaphor is not about planned change with predefined targets; it is about leading change in a collective search process in which players work together towards transformation and innovation in their own organization. In this way the play metaphor provides a positive outlook on changing and innovating organizations as a collective process of organizational learning.
Organizational culture
Organizational change as collaborative play invites players to see the informal life of an organization and understand the organizational culture they have created themselves. It is not only about business strategies, organizational structures and technological systems, but also about cultures, play patterns, and the unwritten rules of the game. The play metaphor brings out cultural practices, stubbornness, interactions between players, political games, individual uncertainties and resistance to change. With change as play these aspects are essential in making transformational changes successful.
Play model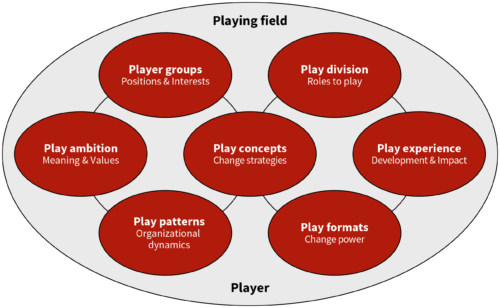 The book contributes to successfully changing and innovating organizations in a dynamic
environment. Changes are inevitable but not a matter of course. This book reveals what dynamics the players in organizations are facing and how they can shape changes without losing themselves in those dynamics. In eleven chapters a play model for organizational change is explained. Attention is given to business environments and stakeholders, mission and business strategy, organizational culture and organizational dynamics, the art of choosing change strategies, supporting and resisting change, and the roles of leaders, managers, employees and consultants in transformational change.
Inspiration and guidance
Embracing organizational change as collaborative play will lead to a fundamental choice: the path of certainty and planned change aimed at stability and control, or the path of tension and uncertainty which contributes to transformational change and in-depth innovation in our organizations and the world around us. The play model provides inspiration and guidance for professionals, leaders, change agents, employees and consultants who are willing to innovate and are constantly exposed to change. Anyone can be a leader in change by contributing through their own role and profession to transformational change and innovation in organizations.
In the book 'Organizational change as collaborative play' you have a set of guidelines for shaping changes in your organization as an adventure together with others and making these changes successful.